Remember SABC 1's Tshisa? See How Actors Look As Compared To How They Did 15 Years Ago
Remember SABC 1's Tshisa? See How Actors Look As Compared To How They Did 15 Years Ago
It has been 15 years since SABC 1 and Moja Movie Factory brought us This one of South Africa's most memorable drama series. The first episode of the first season premiered on SABC1 on 21 September 2006 at 21:00 PM. Season 3 was the final season and it ended in 2012.
If you have never watched the series, I'd say the first season focuses on Bafana (played by Bongani Masondo) and Ayanda (played by Zukisa Matola) entering a presenter search competition and ending up being co-hosting it.
While Bafana is in pursuit of getting his Kwaito career to take off, Ayanda works tirelessly to seek help for her mother whose eyesight has deteriorated.
The two characters develop, Ayanda becomes a model while Bafana's career finally takes off.
Bafana who comes from the suburbs meets Thabo "Baksteen" Lerole who grew up in the township shacks. Together they become a duo and record songs.
In their quest for glitz and glam, they get introduced to drugs like cocaine, heroin, and crack. They mix up with the wrong people and soon enough, Bafana gets shot at in a drive-by and becomes paralyzed.
This is a story of how our choices affect those we love – especially the effect of drugs on those choices.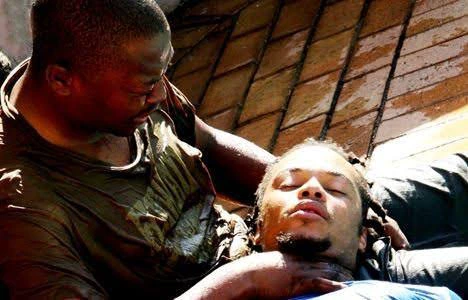 This is a tale of life choices; the price of fame; the allure of bling; the downward spiral of drugs; overcoming disability; love, relationships, and HIV; families, and the traditional ties that bind.
So after a decade and a half, this is how the cast looks:
1. Bongani Masondo as Bafana Shabalala
Born: 26 January 1984 (37 years old)
Although This was his debut TV appearance, Masondo has also been on the movie, Skin (2008), Society (2007), and Skeem Saam.
2. Innocent Masuku as Thabo "Baksteen" Lerole
(36 years of age)
Although Masuku has been out of the radar for a while, he's been on South African TV shows such as Yizo Yizo where he played the role of "Bobo" and also played "Maradona" on Zone 14.
3. Zukisa Matola as Ayanda Ncebe
Born: 14 January 1978 (43 years old)
Her most iconic role is the one where she played the psychotic wife of Dumisani Shabane, Bridget on Generations.
She's also been on Tsha-Tsha, Isithembiso, Z'bondiwe, and The Queen.
4. Enhle Mbali Mlotshwa as Precious
Born: 3 March 1988 (age 33 years)
Enhle is the ex-wife of SA DJ, Black Coffee. She's a fashion designer, model, and entrepreneur. Her catalog as an actress includes Moferefere Lenyalong, Soul City, Sokhulu and Partners, Rhythm City, Rockville, and 7de Laan.
5. Thandy Matlaila as Lindiwe Ngema
Born: 23 August 1987 (34 years old)
Actress and fitness bunny, Thandy Matlaila is the CEO of Aptitude Consulting and also does Yoga.
She's been on Soul City, The Queen, Rhythm City, and Ring of Lies.
Content created and supplied by: HolisticEye (via Opera News )