Growing up in Zimbabwe, life was hard: Rasta the Artist narrates his journey in visual arts
Growing up in Zimbabwe, life was hard: Rasta the Artist narrates his journey in visual arts
Lebani Thaka David Sirenje, better known as Rasta the Artist, was born in Killarney in Bulawayo, Zimbabwe, and grew up in Pumula East. He is an infamous artist who has secured himself a tender to immortalize some of the most prominent South Africans on canvas.
The painter is not what you would consider revered, as a lot of his portraits don't really look like the people he is trying to depict, yet he still somehow manages to find himself center stage at the funerals of people such as the late architect of motswako music Hip Hop Pantsula, the whose given name is Jabulani Tsambo, rapper ProKid (Linda Mkhize) and even the last apartheid-era president, FW de Klerk.
The artist some might consider sketchy says: "I started sketching when I was seven years old and I realized I liked art, and some of my teachers assigned me to do chats in class and hang my art on the walls. My classmates also commissioned me to do artwork for them."
He started out doing sketches and portraits of his classmates' favorite wrestlers and cartoons, and his early taste for recognition for his art took firm hold in his days at Ingwegwe Primary School. "I went to high school at Magwegwe Secondary School, where art was a practical subject and I was no stranger to some of the learners. I harnessed my love and skills for art there."
He boasted about getting 100% for his efforts in the subject. After finishing school, he came to Jozi in 1996 for work, as art proved to be more viable as a hobby than a career choice. Rasta elaborates: "I went to restaurants but only worked for, like, three months there and then I made a move to construction, doing ceilings, wooden floors, welding, tiling, partitioning, renewing furnishings and painting walls, which even now is still a skill. I had a company too, and I employed guys and got them jobs as I was getting lots, vele."
Any money he made would be put back into the business to purchase materials. He would then sling his artworks at intersections before making inroads at the Rosebank Sunday Market and Bruma Lake flea market, and he even ventured as far as Magaliesburg on a mission to market his craft. Humble beginnings for someone who makes headlines every time he raises his brush to the canvas.
He proudly recollects how he has painted a lot of prominent South Africans, so many that any funeral of national significance without a Rasta piece fitted to it is probably not as important as you think. He chuckles: "I have done almost everyone, dead or alive; legends across Africa and the world at large. I'm sending my work overseas as well, and I can safely say I've done over 400 portraits so far."
He says the task of capturing someone's likeness is never an easy one.
"In painting, there is no easy one or hard one; they differ, as it all depends on what I am painting. The most challenging ones are those that my fans tell me not to paint, as that adds to the pressure of the job. I have done away with that fear, popped out of that fear-filled shell, and now I am strong and ready for any challenge. I have to be, as I very often paint in front of grieving families or even the president of the country."
Those are two instances that are always a big deal for him.
His agency, Romance Films, has secured him two major advert campaigns, his latest being with Chicken Licken. He also has a Ballantine whisky advert alongside DJ Shimza (Ashley Raphala). Both adverts seem to almost mock or make fun of his work, which is something that goes hand in hand with his creative exploits that are, more times than not, met with snide commentary and people looking down on his skills.
Despite that, his star rises and he is clearly embracing his role as an oddball. It takes some stones to be in an advert that plays on your ineptitude as an artist – when this is your main vein of earning.
He is now looking to spread his wings on the small screen and is working closely with Mandla N (Ngcongwane) from Black Brain Pictures on their telenovela series DiepCity. Of course, he will appear, doing a portrait or two.
Not only did he get that Chicken Licken bag, but he also launched his very own fashion label yesterday. He shares a few words of encouragement to anyone who might be wrestling with the idea of pursuing their inner passion. "As a kid, I loved art and I like the idea of art for the young ones too. To them I would say, please wear blinkers and focus only on what is in front of you. Stick to your craft, because it is not easy. There will be sleepless nights, you might even go hungry trying to follow your dreams, but you must keep at it.
"I've been there, sleeping at stations and eating from dustbins, trying to prove and show my God-given talent. Art is a calling and, for me, without it, life would be a misery. In fact, a day passing without my painting is a terrible day."
He is impervious to any heckling; even his parents didn't believe he could make this art thing work. Fuelled by his love for art and inspired by the creativity of people such as Esther Mahlangu, Rasta the Artist is here to stay and go from strength to strength.
Source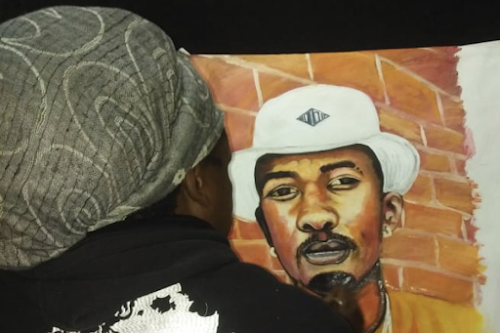 s:
Controversial visual artist Rasta has bagged himself a few new advert campaigns along with his very own clothing line. He speaks with Phumlani S Langa about dealing with critics and using the hate to pad his bank account https://t.co/wSuwYuyP1v. pic.twitter.com/4TO3e9gqBV

— City Press (@City_Press) January 30, 2022
Content created and supplied by: MBCNetwork (via Opera News )